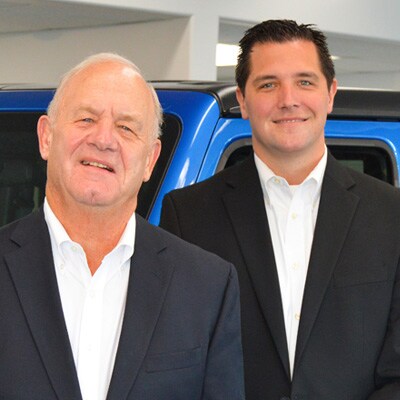 The Scoville-Meno Family of Dealerships originated in the 1970s at Scoville Ford in Vestal, NY, a dealership founded by Steve's father Lloyd Scoville in May 1967 as Steve was graduating from high school. Steve went to Villanova University in Philadelphia with a desire to have a career in the retail automobile business, and graduated in May 1971. He then worked beside his father for 9 years until 1980 when they sold the dealership and Lloyd retired.
Six months later in May 1981 Steve opened Steve Scoville Inc., a Pontiac, Buick, Oldsmobile, Cadillac, & GMC dealership on Rte 17C in Owego. In 1985 Steve Scoville formed a partnership with Jim Meno to open Scoville-Meno Chevrolet in Bainbridge. Jim's father John Meno had been a leading Sales Consultant at Scoville-Ford and Jim's career started in the same manner as Steve's, working in various dealership jobs during summers in high school and college and graduating from Northwood College in Michigan. Jim eventually earned his way up to a Sales Manager at Scoville-Ford and remained there until the dealership was sold.
In 1987 Steve & Jim opened Scoville-Meno Chrysler-Dodge-Jeep in Sidney, and in 1990, a second Chrysler-Dodge-Jeep dealership in Sayre, PA. In 1996 they built a new facility for their Sidney Chrysler dealership in downtown Sidney and also purchased the Honda dealership in Oneonta. Several other franchises were acquired in the intervening years and merged into the present locations. 
Steve's son Jake Scoville also graduated from Villanova University in 2003 and joined Scoville-Meno. In 2010 he was named General Sales Manager, responsible for sales operations in the four locations.
In 2011 Jim Meno took a medical leave resulting from a long term condition, and the Sayre, Pennsylvania Chrysler dealership was sold to focus on the four New York State dealerships. In 2014 Jim Meno retired and Jake Scoville was named Vice-President, and today he and Steve are regularly in each of the dealerships weekly.
We have a highly professional and experienced team of department managers and staffs in each location that are prepared to expertly handle all your Automotive needs.